Where Are We Today?
In April of 2020, after two years of living in an RV full-time, we returned to a "sticks and bricks" home in Spokane. Once settled, we downsized from a truck/trailer/tote combination (65′ in total length), to a 27′ Class A (bus style) Winnebago. From our new home base, we took a 2-month trip in the new rig, filling in the remainder of the 48 contiguous states that we had not previously visited in an RV. The map below shows the summary of our 3 trips, with the purple trip representing our latest adventure.
Each circle on the map represents a place where we camped overnight, and the second picture shows my wife placing our last state to be visited (TN).
Read on for a much more detailed narrative of our first two trips.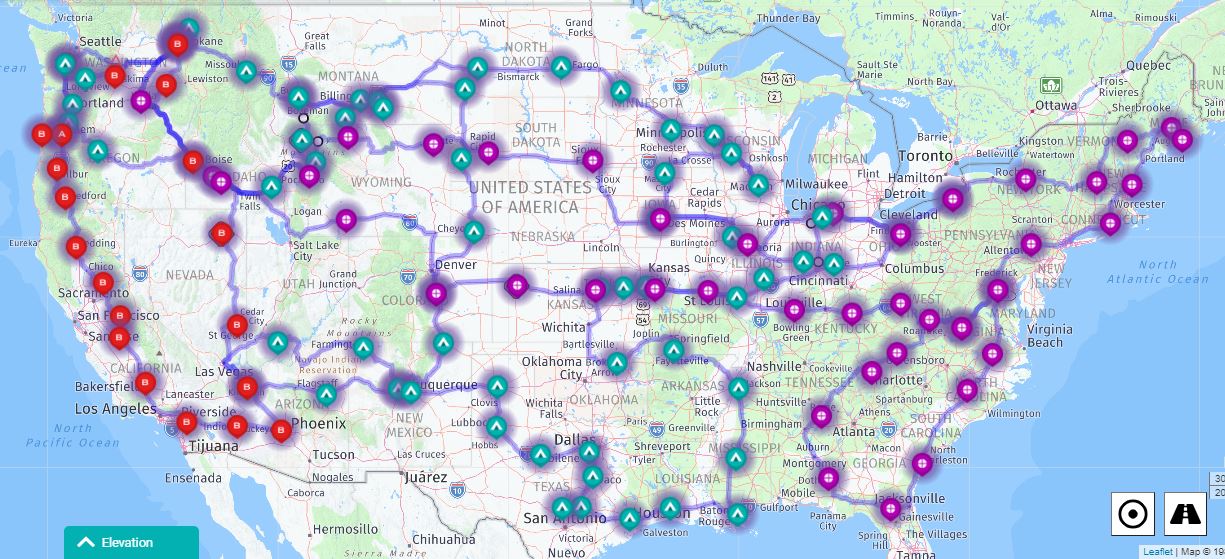 In year one, we covered about 24,000 miles in our full-time RV life. We began in Spokane in early August, and were back there a year later, preparing for Ellen's knee replacement surgery.
Year two started with 2 months of recovery in Spokane (Aug and Sept), followed by a month on the road (Oct) through WA, OR and CA (our 34th state).
We spent a month (Nov) at a lovely but desolate campground in Ehrenburg, AZ (on I-10 right on the CA border), followed by a little over 3 months (Dec through early Mar) in Goodyear, AZ, a suburb of Phoenix.
From Goodyear, we had exciting travel plans, ALL scuttled by the COVID scourge. We planned to go to Italy and southern Europe in March, then Italy closed. We switched to northern Europe. It closed. We shifted these plans into the fall and decided to head back to Washington. In the heat of the pandemic moment, that almost closed, but we made it back.
We are now safely ensconced in a duplex in Spokane. We traded the fifth wheel in on a small class A (for the uninitiated, those are the ones that look like a bus). We are in the process of selling our truck, motorcycle trailer, and motorcycle. From here, we plan to take shorter trips in the US, revisit Europe (if they let us back in), and generally act like more "normal" footloose retirees.
The first of these shorter trips will be a two month excursion to the east coast. It will later be summarized here as "Year 3." But for now, check out the blog entries for interim updates.
YEAR 1
The first year's stops are chronicled below. In all, we took the RV approximately 12,000 miles, and we covered a similar distance by truck, rental car, and motorcycle. Our journey took us through 33 states, with stops in 65 campsites. We scraped up the side of the RV on a fence post the very first day, and came back into Spokane missing half a fan after crunching it in the process of closing a slide. In between, we froze water pipes, blew out our electrical system and truck head gasket, replaced 3 tires, our stove, and a couple of control panels. We saw fantastic scenery, connected with 119 family members and friends, including many that we had not seen for 40 or 50 years or more, and met some we didn't even know when we left.
Scroll on down for an account of year 2.
YEAR ONE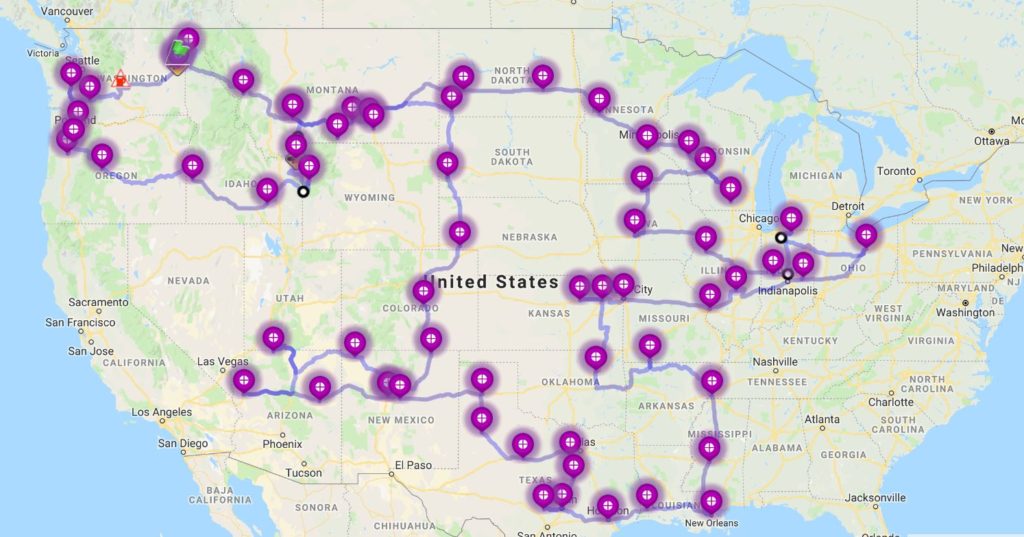 Trip summary:
9 days in WA (Randall, Olympia, Vancouver) with family and friends
15 days in OR (Albany, Silverton, Bend) — kids, grandkids and friends
12 days in ID (Sand Hollow, American Falls) — adding Can Am cycle
3 days in WY (Teton NP) — sightseeing; mountains and moose
5 more days in ID (Island Park) — touring Yellowstone
2 days crossing Montana (Three Forks, Billings) — seeing family and mostly traveling
1 day in North Dakota — to say we have been there. Inhospitable weather, to say the least.
4 days in South Dakota (Custer) — touring Mount Rushmore and the Black Hills
1 day in Nebraska (Sterling) — overnight in an actual Cabela's campground
8 days in Colorado (Colorado Springs) — family wedding
9 days in New Mexico (Raton Pass, Albuquerque, Kirtland) — Balloon Fiesta
33 days in Arizona (Fredonia, Kingman, Holbrook) — the Grand Canyon, southern Utah parks, a visit to Cheri and Peter's house, with a side trip through Nevada
2 days in New Mexico on the way to Texas
83 days in Texas — seeing relatives in Amarillo, Lubbock, Littlefield, and Burleson, Cowboys game in Dallas, Bush presidential Center, model train exhibit, Magnolia empire in Waco, family and friends in Austin. Stonewall, Luckenbach, Fredericksburg, San Antonio and Houston.
7 days in Louisiana (2 in Sulphur, 5 in New Orleans)
3 days in Jackson, MS on the way to Memphis
18 in Memphis, TN, visiting Shiloh, Graceland, and a plane trip to see family in DC
28 days in Branson, MO, taking in the shows and exploring the Ozarks.
2 days in Tulsa, OK, visiting family
9 days in Junction City, KS, getting our RV worked on and visiting family in Colorado via rental car
2 days in Topeka, KS, visiting family
10 days in Kansas City, hosting grandkids for spring break
5 days in St. Louis, attending a baseball game with son Ben
3 days in Shelbyville, IL, meeting up with friends we had not seen for 43 years
2 days in mid-Indiana, on our way east
11 days in Ohio, making a road trip to visit family and a friend we had not seen for 45 years
4 days in Elkhart, IN, getting the suspension checked out
3 days on the road (IN, IL, IA), then 5 days with family
2 days to get the RV finally painted (IA)
15 days exploring Wisconsin and picking up a Milwaukee game
6 days in Minnesota, catching our fifth and final ball park for the year
2 days in North Dakota, catching up with a friend and tasting Theodore Roosevelt National Park
26 days in Montana, visiting Custer Battlefield, making side excursions into Wyoming to explore Sheridan, Cody, and ride the Beartooth Highway, then working our way west, stopping to see friends in Missoula and enjoying the countryside around St. Regis
3 days in Idaho, visiting family
Finally arriving back in Spokane 353 days after we originally left.
The map below shows the 33 states we have visited. The 27 red states are places we took the RV. The 6 blue states were visited by rental car while we parked the rig near Cleveland.
Back in Spokane we scheduled some major medical overhaul (a new knee for the wife), and a whole bunch of minor maintenance (eyes, teeth, annual exams, prescription renewals, etc.) After two months, allowing recuperation time for Ellen, we headed south again, this time exploring the full length of the state of California before settling into Arizona for almost 5 months.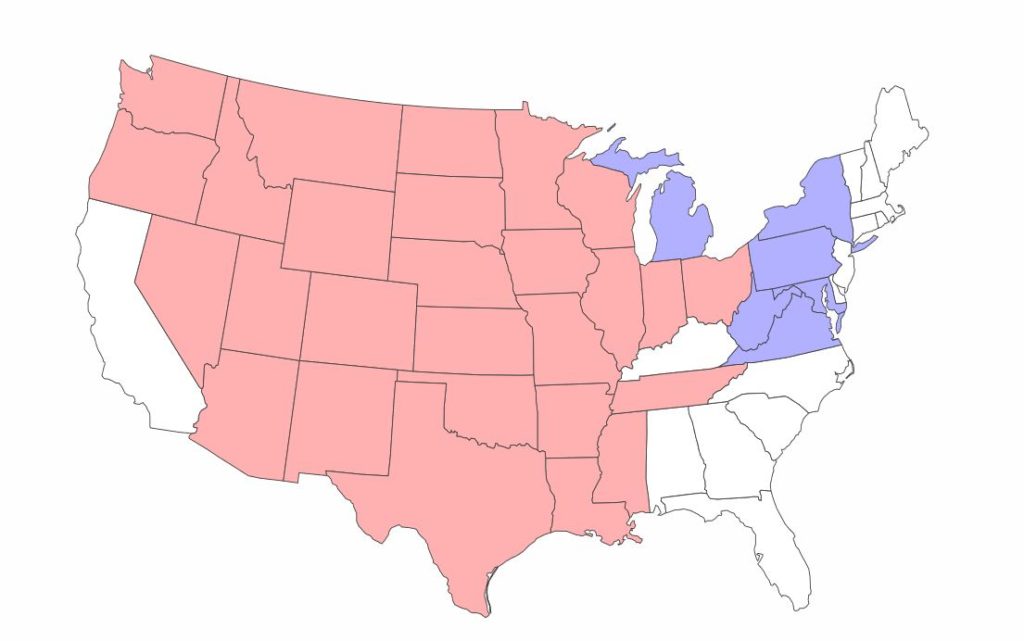 YEAR TWO
From Spokane, we spent:
2 nights in Yakima, WA in transit
2 nights in Olympia visiting family
4 nights in Albany, OR visiting family
2 nights in Newport sightseeting
2 nights in Oakland, OR
4 nights in Medford, OR, sightseeing and visiting a pastor friend
3 nights in Redding, CA, sightseeing
3 nights in Grass Valley, CA, sightseeing and visiting an RV dealer for fun
3 nights at an RV park near Yosemite, to visit it
1 night in Chowchilla, in transit
2 nights in Bakersfield, in transit
4 nights in Hemet, near Palm Springs, visiting 2 sets of friends
A month in Ehrenburg
Almost 4 months in Goodyear
5 straight days of travel to arrive back in WA on the day the "stay home" order went into effect.
A month in rural SE WA (near Dayton) before returning to a newly leased home in Spokane.
Europe, the original plan for Spring of 2020, was a victim of COVID, as detailed in the International Travel blog section.
Unfortunately, my RV Trip Wizard subscription lapsed before I put together the final return map, so the trip home (black line, with stars for stops) is a fairly crude approximation of the return trip. It is not perfect, but gets the idea across.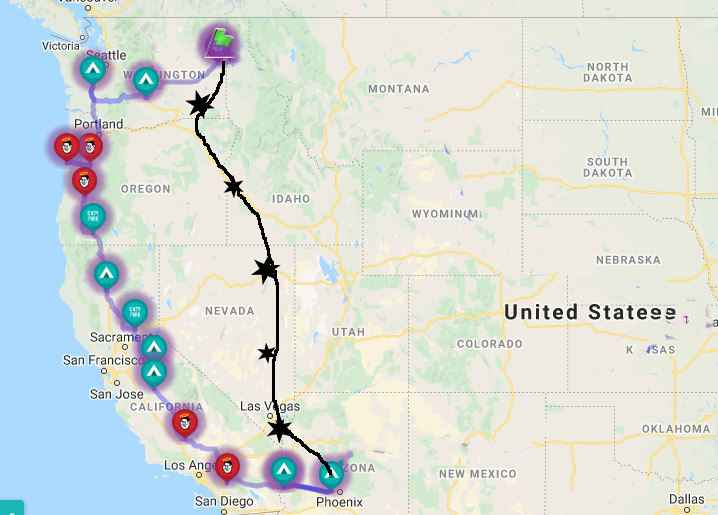 SUMMARY
We were full-time RVers for a month short of two years. Would we do it all over again? ABSOLUTELY! Are we ready to stop RVing? NO! But we are ready to stay in one location and be more selective about our travel, in part because we want to also explore more of Europe while we still can. As our sub-title says: "If not now, when?"
Here is the final map of the states we visited. The blue states are ones where we spent a month or more at one time. Not bad, eh?